DisplayPort backers gather in San Francisco this week for the third plugfest for the standard written by the Video Electronics Standards Association. The interface has been slowly gathering steam since a critical mass of vendors officially got behind the spec at CES in January. Bob Meyers, the HP display guru chairing the standard effort, said this year's CES will show an even broader group of proponents, products and prototypes—as well as an update on plans for a two-stage upgrade path.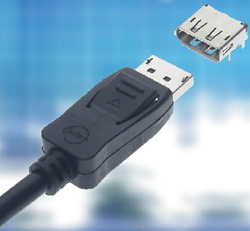 Foreshadowing the rise of this new interconnect, Integrated Device Technology announced today it has created a new digital display division focused on chips for DisplayPort standard. The company has five DisplayPort parts in the works, but has yet to start sampling any of them.

An IDT spokesman said DisplayPort is not only being used as an external PC interface but is also replacing LVDS as an internal link inside notebooks and LCD TVs. He estimated it could appear in 300 million PCs and 100 million consumer systems by 2010.